BLIND WAVES
Photographys and video's
2020




"Blind Waves" is a new development of the photo-series "Beach" (2000-2006) from my old portfolio. The work was a gathering of a (then) newly discovered interest for the Romantic Painting and the nostalgia of the life-style I left behind when I migrated to Europe.











Porto da Barra, Salvador, 2006
The beach life had a familiar taste and Porto da Barra Beach was the embodiment of my dearest dreams.
When I returned to Brazil after a period abroad, was there that I found everything I had missed: sunshine, warmth, free bodies, tender waters and the sweet taste of recognition.
Porto da Barra, Salvador, 2000
A famous Brazilian mith considers the beach as a democratic space where all classes and races equally convive. I developed a poetic series of photographs that unconsiously ressembled that thesis. Years later, the work was turned upside down.
Porto da Barra, Salvador, 2006
Bodies, gestures, poses, games, maneuvers, deviations and all which was previously perceived without distinction, now had changed in the space/ territory /battlefield before my eyes. Suddenly I understood that however occupying the same place, they did not mix.
Porto da Barra, Salvador, 2001
What my nostalgia sought was nothing more than an illusion of equality, and my point of view, a privilege. A white and class privilege.
Porto da Barra, Salvador, 2006
And the "democratic beach" an illusion and an appendix of another mith: the violent legend of the "Brazilian racial democracy".
Seeing is a process steeped in conjecture, as we see what we believe. And seeing beyond our beliefs comes as a shock, a slap in the face, an embarrassment.
The embarrassment of ignorance.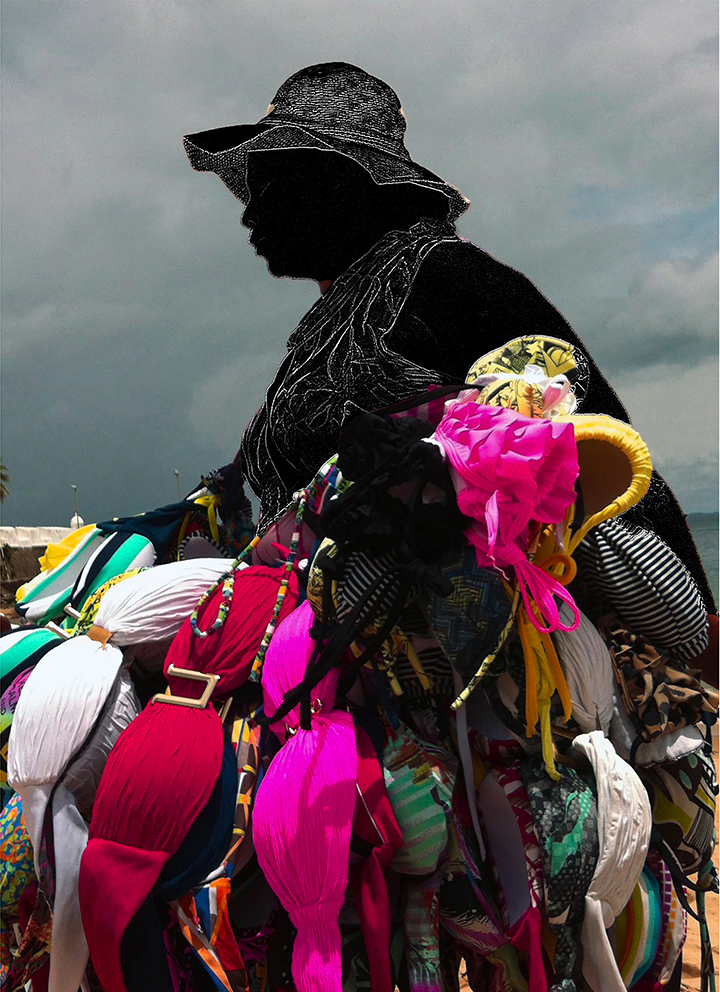 Porto da Barra, Salvador, 2010
And that's how it happened: I suddenly started to see.
San Vito Lo Capo, Sicily 2013
Cefalù, Sicily 2013
And what I saw was apartheid.
Porto da Barra, Salvador, 2010
Cefalù, Sicily 2013
In petty-bourgeois leisure spaces, that is, for whites, the place of black bodies is a suspended, invisible place.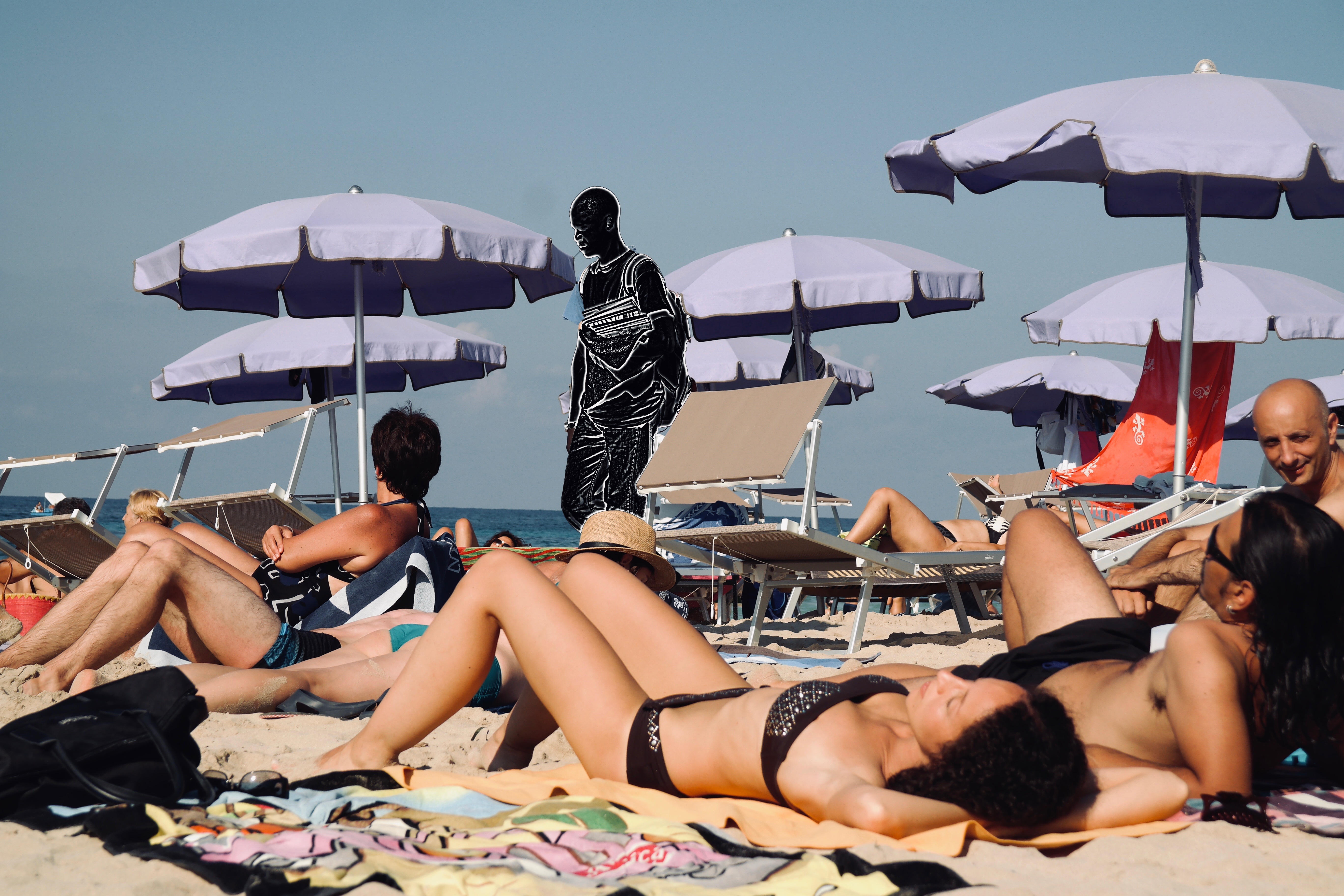 San Vito lo Capo, Sicily 2013
Ther place of the survival illegal and uninsured work.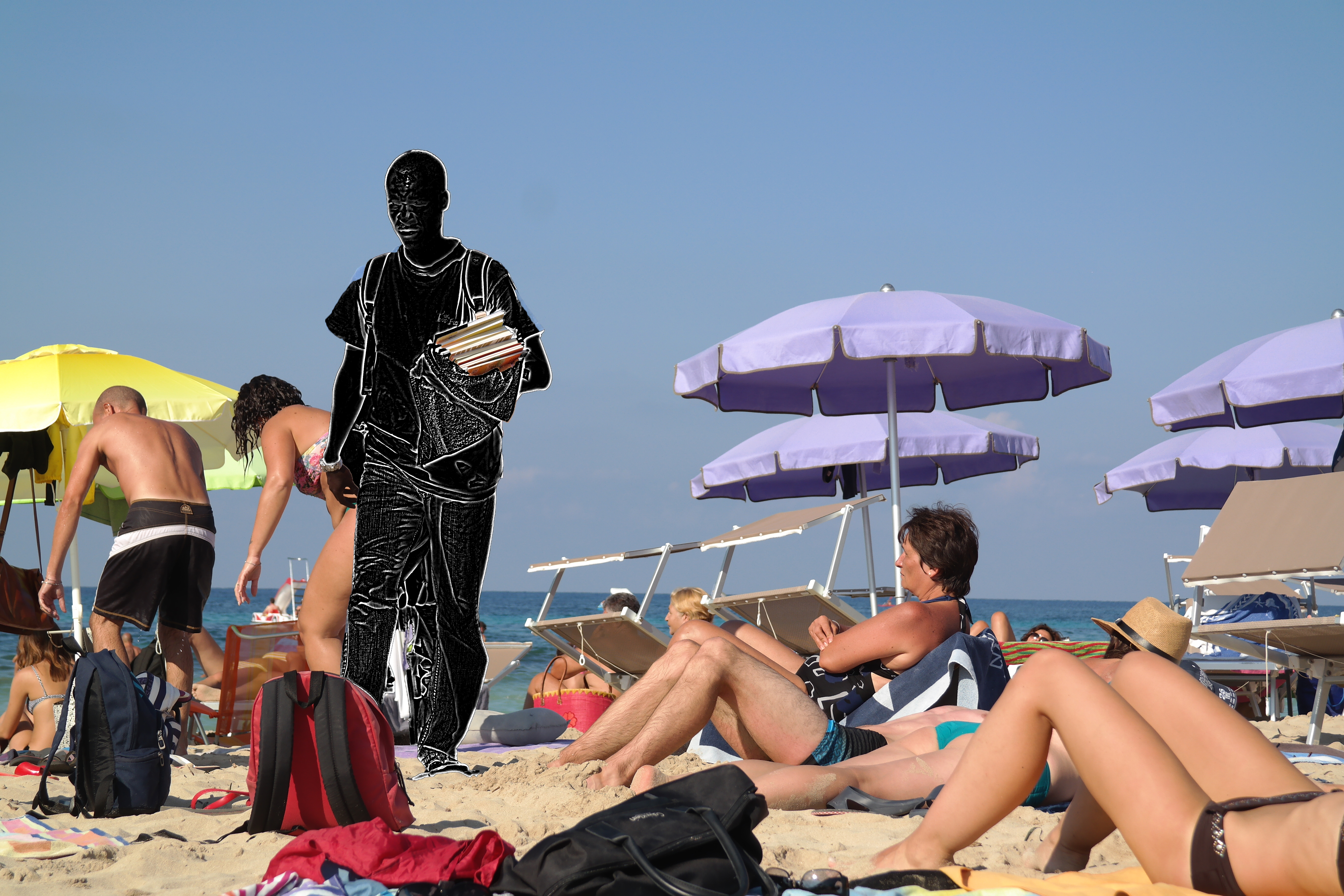 Where shadows move invisibly carrying misshaped luggage.
Cloths, toys, sunglasses, hats, bikinis, souvenirs, hammocks, all kinds of fake products (eventually also food).
Black shadows wandering on the beaches of Brazil as well as in Europe, selling, in general, outsourced products.
Recurring images on the beach, but also in the city, in front of museums, tourist spots and other leisure areas.
Scenes repeated in Salvador, Paris, Rome, Madrid, Greece or Sicily.
Sometimes, children.
Mallorca, Spain, 2016
Bodies walking under the sun of the globalized blindness, dehumanized, working incessantly without rights.
Vilas do Atlântico, Bahia, 2012
In Brazil, the favelados, precarious, descendants of the enslaved that were brought from Africa by force along three centuries.
In Europe, those who recently fled war and famine, those who crossed the ocean in precarious boats and survived the crossing, refugees, asylum seekers, illegal immigrants.
I recreated their shadows digitally, in a metaphor for their invisibility in global capitalism.
The intention is to re-read the images, intensifying their exclusion and silencing.
The title "Blind waves" was randomly taken from a text by the Cameroonian philosopher Achille Mbembe.
The photographs were taken in:

Brazil (2000 / 2001 / 2006 / 2010)
France (2016)
Italy (2014)
Spain (2016)

Neyde Lantyer © 2020 All rights reserved.