BLIND WAVES
Photographys and video's
2020





"Blind Waves" is a new development of the photo-series "Beach" (2000-2006) from my old portfolio. The work was a gathering of a newly discovered interest for the romantic painting plus the nostalgia of the life-style I left behind when migrated to Europe.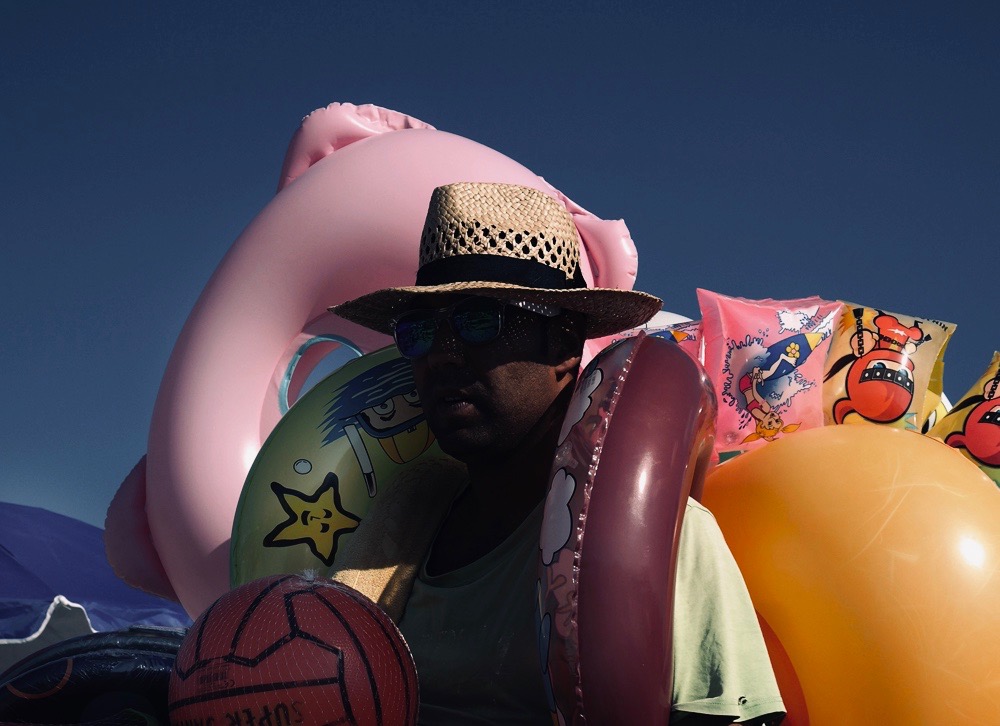 Porto da Barra, Salvador, 2006
The beach life had a familiar taste that incarnated my most dear dreams. Porto da Barra Beach was the embodiment of thoses feelings.
When I returned to Brazil after a period abroad, was there that I found everything I had missed: sunshine, warmth, free bodies, tender waters and the sweet taste of recognition.
Porto da Barra, Salvador, 2000
There is a famous Brazilian mith that sees the beach as a democratic space where all classes and races equally convive. I developed a long series of photographs to ressemble the good feelings and to reflect on that thesis. Years later, the work was turned upside down.
Bodies, gestures, poses, games, maneuvers, deviations, everything the previous perception contemplated without distinction, now alternated before my eyes in the battlefield.
And suddenly I understood that however occupying the same place, they did not blender.
What my nostalgia sought was nothing more than an illusion of equality, and my point of view, a white privilege of class. And the illusion of the "democratic beach", an appendix to the violent legend of the "Brazilian racial democracy".
Seeing is a process steeped in conjecture, as we see what we believe.

And seeing beyond our beliefs comes as a shock, a slap in the face, an embarrassment. The constraint of ignorance.


San Vito Lo Capo, Sicily 2013




And that's how it happened: suddenly I started to see. And what he saw was apartheid.

Cefalù, Sicily 2013

In petty-bourgeois leisure spaces, or, better said, white, the black bodies are in a suspended, invisible place.
Porto da Barra, 2006

Place of illegal and uninsured - survival - work.